Polished Concrete Floor Contractor
Don't cover or replace that concrete floor. "Recycle" it and choose from a wide array of aesthetic options.

Polished concrete floors are durable, beautiful, safe, easy to maintain, and affordable to own.
REVIVE YOUR CONCRETE FLOOR
With today's technology, even older, damaged, or just plain worn-out concrete floors can be transformed through our combination of grinding, filling, sealing, and polishing techniques.
We can color-dye your floors, provide decorative flourishes, and put down safety and traffic markings, as desired.
We'll evaluate your floor's condition and work with you to find the solution that best fits your needs and budget.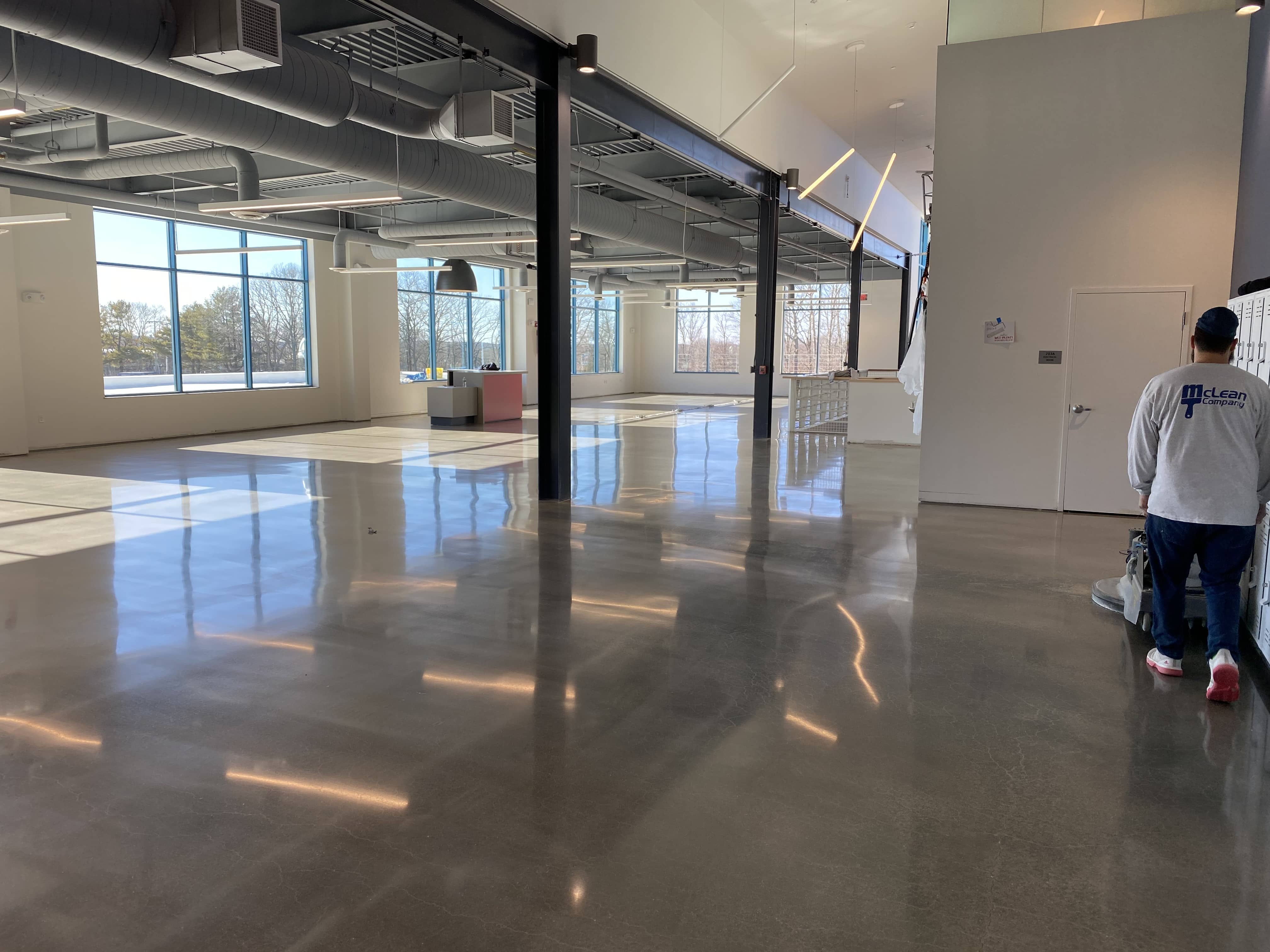 BENEFITS OF POLISHED CONCRETE FLOORS
The benefits of our polished concrete floor sealing systems are numerous.
polished concrete floors can be tailored to your specification
From durability to sheen, aesthetics, ease of maintenance, safety, and resistance to a wide variety of potentially damaging agents and circumstances.
CONCRETE FLOOR BEFORE POLISHING
CONCRETE FLOOR AFTER POLISHING
THREE MAIN TYPES OF POLISHED CONCRETE FINISHES
McLean Company offers three basic polished concrete finishes, which we'll adapt as needed to create a polished floor just right for your space.
Contact us to learn more about the concrete polishing process and about our industrial, commercial, and premium finishes.

APPROPRIATE FOR A WIDE VARIETY OF COMMERCIAL AND INDUSTRIAL APPLICATIONS
They Adhered to our Strict Environmental Rules
With the completion of the basement project, we were very pleased with the workmanship of McLean Flooring Solutions and the overall professionalism of their work crew. Both during and after the project they adhered to our strict environmental rules. The work site was always left clean and prepared for the day's work.
Paul Buttner, Operations Coordinator
GE Energy Services – Medford, MA
POLISHED CONCRETE FLOORS Benefits Explained
Polished concrete floors are ground, densified, and sealed to be foot and machine traffic friendly, as well as resistant to: chemical damage; stains from paints, oils, and other liquids; impact traumas; and changes in temperature and moisture.
The uniform surface of polished concrete provides a smooth, stable platform for foot and machine traffic, helping prevent accidents. Anti-slip aggregates can be incorporated into the surface and traffic pattern and safety markers can be added to protect your customers and your employees.
Polished concrete floors are virtually maintenance-free; all they need is an occasional damp mopping or buffing. Because they don't need stripping and waxing, grout restoration, special cleaning tools and products, or other costly routine maintenance, you save on both labor and materials.
Polishing your concrete floor is affordable, especially when compared to adding a new floor. Polished concrete needs little maintenance, saving money from the start. Additionally, polished concrete floors can create high light-reflectivity, providing a bright, clean look to your facility, without the need for extra, costly overhead lighting. Studies show that highly reflective polished concrete floors can decrease your electricity bill.
An astonishing variety of color dyes can be integrated into the existing concrete surfaces. The floors can be burnished to a range of finishes, from high-gloss to matte, and finished to expose light-to-heavy aggregates. In addition, a limitless variety of decorative finishing touches can be added to customize your floors. The result: a beautiful, one-of-a-kind, signature floor.
Our work reuses an existing product — your slab. We grind your floor on-grade, and eliminate the need to buy expensive, new floor coverings or regularly replace worn out floors. Our floor treatment products are low VOC (volatile organic compounds), and create no hazardous waste. McLean Painting & Flooring is a member of the Green Building Council.
Let's Talk About Your Flooring Needs
Call Us:
978-774-4330
Industrial & commercial inquiries only.
We do not service residential clients.